Welcome
Founded in 1995, Sutherland Institute is an independent research and educational institution – a think tank – whose mission is to advance sound ideas and principled public policy. Sutherland is a nonpartisan 501(c)(3) organization and does not accept government funding. We rely on support from corporations, foundations and individuals like you that share a commitment to family, free markets and localism. Sutherland consistently promotes solutions that serve community needs and build on areas of agreement. We believe people are more alike than different – that policy matters, principles matter more, and people matter most. Our mission includes a charge to build future leaders: educated, able and willing to defend a New Birth of Freedom for the next generation.
Sutherland is consistently working to finalize important policy event dates. Check back soon!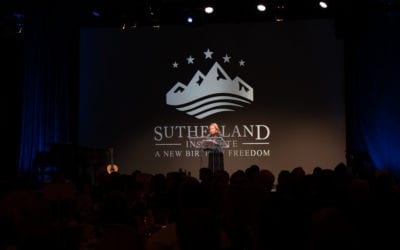 On Saturday, Nov. 9, Sutherland Institute held its 25th anniversary gala where more than 600 notable guests attended. It was not only the largest gathering in Sutherland's history, it was perhaps the most consequential.
read more
"That this nation, under God, shall have a new birth of freedom – and that government of the people, by the people, for the people, shall not perish from the Earth."
~ President Abraham Lincoln